INTO THE VALLEY: Where Everything is Connected
by: Jamie VanBuhler
Journey through the most magical place on earth! A coffee table photography book of the Kalalau Valley from the inside looking out.
Watch this video to learn more about Jamie VanBuhler and the making of this book:
To ORDER THE BOOK CLICK HERE!
When I first heard about this magical place, I had to go. Little did I know that it would take 3 attempts and multiple tragic events before I set foot on the path. After recovering from a serious injury, I was finally blessed with the opportunity to trek the 11 beautifully challenging miles.
What started as an adventure of personal triumph turned into a body of work that continues to inspire me along with those who have been there, those who wish to go, and those who face challenges and need to know that anything is possible. There is beauty in the world that makes every step forward worth it.
THE WATER OF LIFE.

THE MAGIC.

THE WORLD'S GREATEST HEALING CENTER.
A journey that takes you to a sacred, ancient, breathtaking valley where you are placed in the moment, connected to everything around you.
In the Valley, the veil is thin between worlds. Because you are disconnected from the outside [no cell/ internet/ cars], it makes it easy to connect to spirit. Easy to realize there's more than you.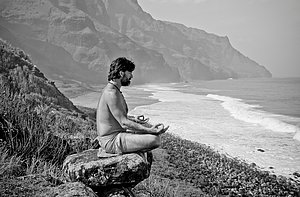 In Tune. In Touch. In Truth
The images within this book embody a space where we can truly BE. A place where worries and obligations fall away and your inner child is free to roam.
COVER SPREAD:
BOOK DETAILS
* HARD COVER
* 12x10 inches
* 144 pages of photographs including quotes from souls deeply impacted by the Kalalau Valley and my own personal story of trials and tribulations and how the Valley healed me.
LIMITED EDITIONS AVAILABLE!
* Book comes in a beautifully designed Clamshell box. The clamshell box is an artpiece all itself! The hardcover book is accessed by opening the cover of the box like a clamshell.
Clamshell box coverspread:
* Vellum signature page signed and numbered in each limited edition book. Only 100 Limited editions made.
* A CD from Pete Kartsounes also included. Titled: 'UNWIND' Songs written back in the Kalalau Valley. The cover of the CD is a picture from the book.
* A signed and numbered 6x12 print of "Kalalau Rainbow"
Here are some funny commercials showing what INTO THE VALLEY can do for you: